Protect Yourself And Your Loved Ones With Our Kenpo Self-Defense Classes
Don't wait until it's too late. Take on the most effective Self-Defense Classes in North Richland Hills today at Texas Storm Kenpo Karate.
Our Self-Defense program is a 10-week course that offers you 20 hours of high-quality instruction. It's perfect for men and women who don't have time to train. It doesn't include any belts or ceremonies. There are no uniforms or traditions.
Just effective and efficient real-world self-defense.
Stay Safe In Any Situation With Our Self-Defense Classes
It's no secret that we live in an increasingly dangerous world. Are you prepared to defend yourself at a moment's notice? With our Self-Defense Classes in North Richland Hills, you can answer that questions with a resounding "YES".
This program will teach you how to defend against:
Grabs and Pushes
Punches and Kicks
Holds, Locks, and Chokes
And any weapons you may encounter
Plus, you'll build total-body strength and flexibility in no time.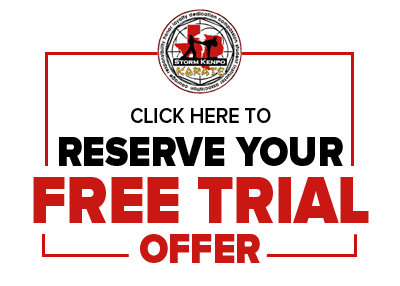 No Experience? No Problem.
These Self-Defense classes are great for all abilities and experience levels. Each and every session is designed to help you protect yourself in a real-world confrontation and we'll teach it all - from the very basics up.
At Texas Storm Kenpo Karate, you can learn how to:
React at a moment's notice
Stay aware of your surroundings
Protect yourself and those around you
Subdue an attacker and alert the authorities
Sign Up Today For Our Self-Defense Class In North Richland Hills
That's all it takes. Just 10 weeks and you can prepare yourself for any challenge you might face. Join us at Texas Storm Kenpo Karate and take on the best Self-Defense Classes in North Richland Hills.
Looking for a program geared specifically towards the unique threats women face? Click here to learn more about our Women's Self-Defense seminars
Take the first step today by filling out the short form on your screen now. We'll be happy to answer all of your questions right away!